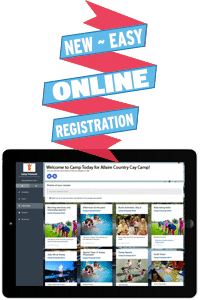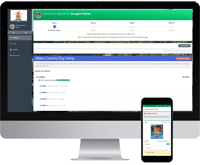 TO REGISTER:
Create your CampSite account using the link from our website.
*Google, Google Chrome, and Mozilla Firefox are compatible with CampSite.
Be sure to use one of those internet browsers.
Choose the "Enrollment Form" to start the registration process.
Complete all required fields.
A credit card to keep on file is mandatory and must be entered during the registration process!
THINGS TO KNOW ABOUT OUR NEW REGISTRATION WITH CAMP SITE:
CampSite is a portal system. You will be able to log back in to view the information you entered, add trips/electives, add schedule, submit forms, etc. Camp days cannot be removed after submitted. Please see our billing policies on our website for more information.
You must select a package when you register but the package is NOT locked in until your schedule is submitted. Schedules do NOT need to be chosen at time of registration. Schedules are due by April 1st.
IF you choose to submit your schedule at time of registration, please note the CALCULATED FEES FOR DAILY TUITION WILL BE BASED ON THE HIGHEST RATE IN YOUR PRICING TIER. RATES WILL BE ADJUSTED AFTER YOUR REGISTRATION IS PROCESSED!
Your payment will not be processed until one of our staff reviews the registration and processes the appropriate fees. Once the payment has been processed you will receive a confirmation email!
FEES REQUIRED AT TIME OF REGISTRATION:
$55 Registration Fee per child (max $110)
$300 deposit per child
Trips/Electives must be paid for when you choose to register for them.
They can be added on at any time based on availability. LIMITED SPOTS AVAILABLE.
NOTES/DATES TO KNOW REGARDING REGISTRATION:
Deposits will be applied towards your first billing cycle.
Registrations submitted prior to 4/1 must be completed by 4/1 or a $50 late fee will occur
Registrations submitted after 4/1 will only be accepted with a completed online registration submission with schedule and will be based on availability. NO PENALTY FOR LATE REGISTRATION.
HEALTH RELEASE FORMS ARE DUE BY JUNE 1st OR YOUR CHILD CANNOT START CAMP