2023 calendars coming soon!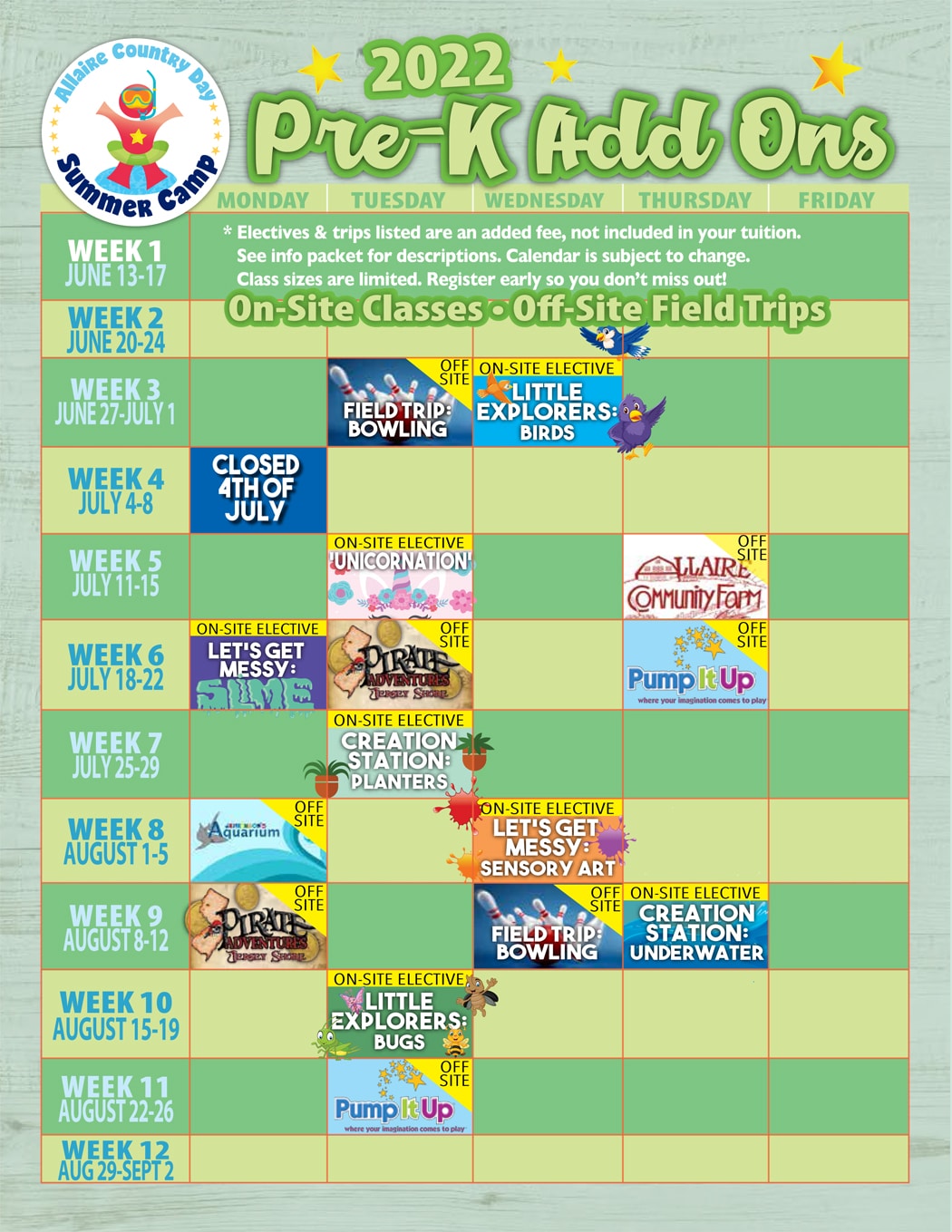 Pre-K Add Ons • On-Site Classes/Off-Site Trips
FIELD TRIP: BOWLING
FEE: $25 PER TRIP
TUESDAY JUNE 28th
WEDNESDAY AUGUST 10th
Location T.B.D • Socks and sneakers required.
Campers will enjoy bowling with their friends.
ON-SITE: "LITTLE EXPLORERS"
FEE: $25 PER CLASS
BIRDS- WEDNESDAY JUNE 29th
BUGS – TUESDAY AUGUST 16th
Campers will use their imaginations to explore new places, ideas, animals and more!
ON-SITE: "UNICORNATION"
FEE: $30 PER CLASS
TUESDAY JULY 12th
Dance into the magical world of unicorns! We will paint unicorns, enjoy an edible unicorn craft, get our faces painted, and have our very own unicorn dance party!
FIELD TRIP:
ALLAIRE COMMUNITY FARM
FEE: $30
THURSDAY JULY 14th
Campers will visit a local farm! They will feed and pet the animals, go for a hay ride, and milk the mechanical cow! The will also enjoy pizza on the farm!
ON-SITE: "LET'S GET MESSY"
FEE: $25 PER CLASS
SLIME – MONDAY JULY 18th
SENSORY ART – WEDNESDAY AUGUST 3rd
Campers will engage their senses while creating fun projects, artwork, and more!
FIELD TRIP:
JERSEY SHORE PIRATES
FEE: $40
TUESDAY JULY 19th
MONDAY AUGUST 8th
Ahoy! Campers will board the Sea Gypsy II for a swashbuckling Pirate adventure on the Metedeconk River. Young pirates will get tattoos, personalized Pirate name tags & fire up the water cannons on a pirate adventure like no other! Can you help the Captain find the hidden treasure?
FIELD TRIP: PUMP IT UP
FEE: $30
THURSDAY JULY 21st
TUESDAY AUGUST 23rd
Campers will enjoy non-stop activie fun while jumping, sliding, & climbing on giant inflatable play structures such as slides, jump houses & obstacle courses. Lunch provided. *Waiver must be signed online
ON-SITE: "CREATION STATION"
FEE: $25 PER CLASS
PLANTERS- TUESDAY JULY 26th
UNDERWATER – THURSDAY AUGUST 11th
This class has one purpose, to create! We provide bins of recycled materials and various items that can be turned into masterpieces. Campers will use their thoughts and ideas to create anything they can imagine!
FIELD TRIP:
JENKINSON'S AQUARIUM
FEE: $30
MONDAY AUGUST 1st
Campers will enjoy a close look at various sea animals and will learn, discuss, and touch sea life with the guidance of professionals.