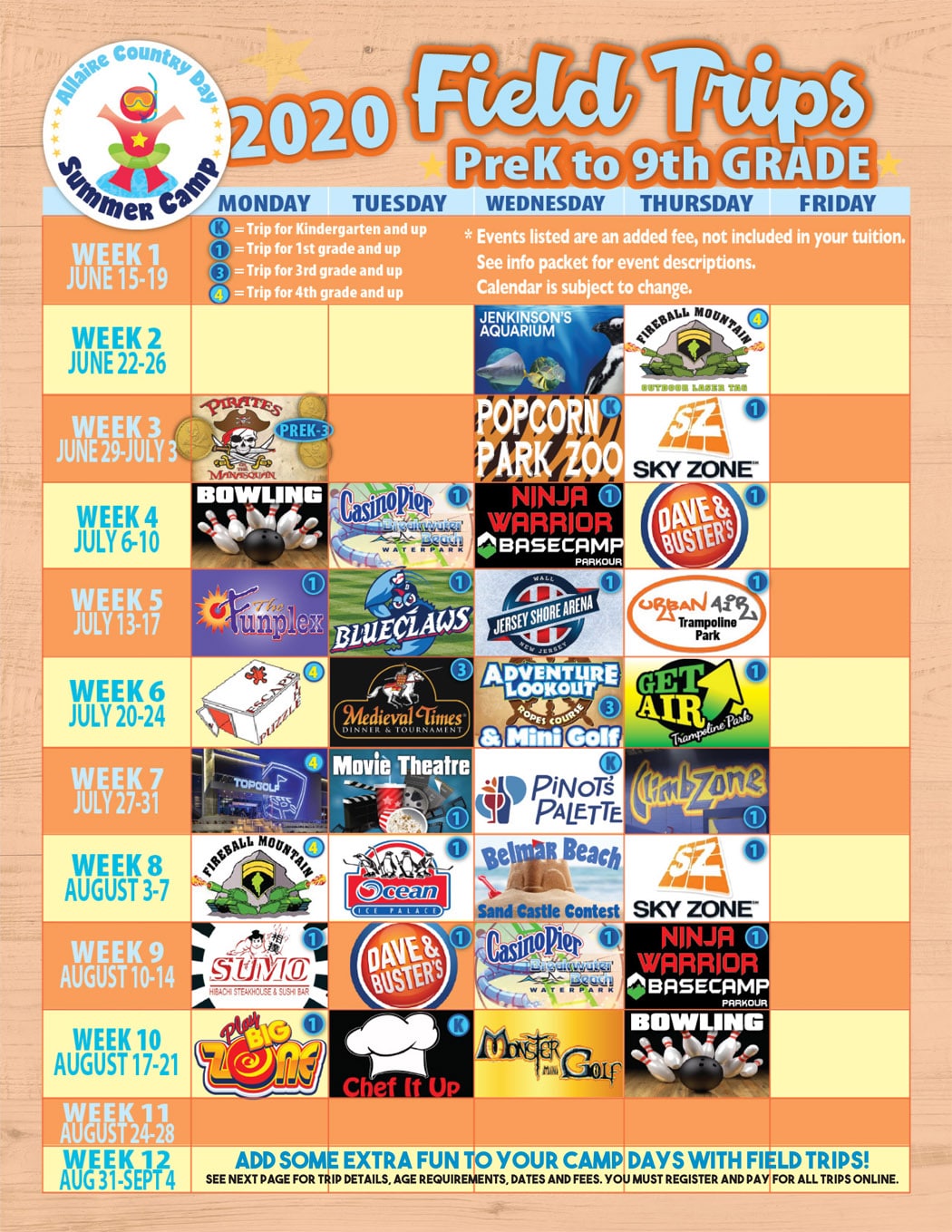 2020 Field Trip Descriptions, Prices, & Locations
Jenkinson's Aquarium PreK-9th
WEDNESDAY • JUNE 24th • $30 • Point Pleasant
www.jenkinsons.com/aquarium
Campers will enjoy a close look at various sea animals & will learn, discuss & touch sea life with the guidance of professionals.
Fireball Mountain 4th-9th
THURS. JUNE 25th & MON. AUG. 3rd • $45
WRIGHTSTOWN • WAIVER & SNEAKERS REQUIRED
www.fireballmountain.com
Enjoy a series of outdoor laser tag missions with a high tech edge, designed to get your adrenaline pumping & your brain working overtime. It will challenge you at all levels.
Pirates on the Manasquan PREK-3rd
MONDAY • JUNE 29th • $35 • BRICK
www.piratesonthemanasquan.com
Ahoy! Campers will board the ship for a swashbuckling Pirate adventure on the Manasquan River. Young pirates will get tattoos, personalized Pirate name tags & fire up the water cannons on a pirate adventure like no other! Can you help the Captain find the hidden treasure?
Popcorn Park Zoo K-9th
WEDNESDAY • JULY 1st • $25 • FORKED RIVER
www.ahscares.org
Campers will visit this animal sanctuary & meet a variety of animals! Campers will also learn about wildlife & even get to feed the animals!
Skyzone 1st-9th
THURS. JULY 2nd • THURS. AUG 6th • $35
OCEAN Twp. • WAIVER & SOCKS REQUIRED
www.skyzone.com/ocean
Campers will bounce their way through this wall-to-wall indoor trampoline facility and Foam Zone!
Bowling PREK-9th
MON. JULY 6th • THURS. AUG. 20th • $20
SEA GIRT • SOCKS & Sneakers REQUIRED
Campers will enjoy bowling with their friends at Sea Girt Lanes, which provides a fun, safe and cool environment.
Breakwater Beach 1st-9th
TUES. JULY 7th & Wed. AUG. 12th • $45 • SEASIDE
www.casinopiernj.com/breakwaterbeach
Campers will enjoy a fun, wet day at the state of the art
Breakwater Beach Waterpark with many attractions for all ages including slides, lazy rivers, dancing fountains & much more. They won't stay dry for long!
Ninja Warrior
Basecamp Parkour 1st-9th
WED. JULY 8th & THURS. AUG. 13th • $45
TOMS RIVER • SNEAKERS & WAIVER REQUIRED
www.basecampnj.com
Campers will be challenged with this dynamic, popular ninja warrior course! Campers will receive ninja warrior training on real obstacles, play black light base camp dodgeball & enjoy open gym time to practice their new skills. Campers will also get to perform in an actual youth ninja warrior competition amongst all their friends on the ninja warrior course.
Jenkinson's Adventure Lookout Ropes Course & Mini Golf 3rd-9th
WEDNESDAY • JULY 22nd • $35
POINT PLEASANT • SNEAKERS REQUIRED
*Please note:MUST BE 42" or taller to attend.
Children under 42 inches will be too small for the course.
www.jenkinsons.com/adventure-lookout-ropes-course/
Campers will challenge themselves & experience the excitement of Adventure Lookout Ropes Course at Jenkinson's boardwalk! The two-level course has 25 thrill elements including a chance to 'walk the plank", a zip-line & a peak of 36 feet with a stunning beach & ocean view. When campers are done with the course, they'll get to play Mini Golf with all of their friends!
Get Air 1st-9th
THURSDAY • JULY 23rd • $35
FREEHOLD • SOCKS & ONLINE WAIVER REQUIRED
www.getairfreehold.com
Campers will have access to the trampolines, dodgeball, basketball jump, foam pits, slackline, fidget ladder & the Ninja Course! During this experience, campers will jump along with the Get Air Radio which plays all of the latest & greatest music.
TopGolf 4th-9th
MONDAY • JULY 27th • $45
EDISON • SNEAKERS REQUIRED
www.topgolf.com/us/edison/
Campers will experience the ultimate golf experience! When it comes to the game itself, players hit micro-chipped golf balls that track each shot's accuracy and distance while awarding points for hitting targets on the outfield. Whether you're an aspiring golf pro or picking up a club for the first time, Topgolf is everyone's game. Buffet created by culinary experts included with high quality chicken fingers, burger sliders, french fries, fruit salad and unlimited soft drinks! YUM!
Movie Theatre 1st-9th
TUESDAY • JULY 28th • $35 • BRICK / FREEHOLD
Campers will enjoy a trip to the movies that features upgraded plush seats, popcorn & snacks. *Movie T.B.D. in Summer 2020
Pinot's Palette K-9th
WEDNESDAY • JULY 29th • $40 • WALL
www.pinotspalette.com/walltownship
Campers will get to express their creativity and make their very own masterpiece! Campers don't need any artistic skills to have fun and paint at Pinot's Palette. Experienced instructors guide them step by step through the painting, but also leave wiggle room for campers to make it their own! Lunch provided.
ClimbZone 1st-9th
THURSDAY • JULY 30th • $35
HOWELL • LUNCH • SNEAKERS & ONLINE WAIVER REQUIRED
www.climbzone.us/howell
ClimbZone is truly a revolutionary concept in entertainment & the most unique indoor climbing experience! All our indoor climbing walls are individually themed. Campers can climb to the top of Jack's giant beanstalk, rise to the top of the Empire State Building or best the 28' tall knight in shining armor!
Dave and Busters 1st-9th
THURS. JULY 9th & Tues. AUG. 11th • $45
WOODBRIDGE • SNEAKERS REQUIRED
www.daveandbusters.com
From exclusive new arcade games to classic video games, campers will enjoy a day full of entertainment! There will be something fun for everyone in the Million Dollar Midway and tons of prizes to take home!
Funplex 1st-9th
MONDAY • JULY 13th • $45 • MOUNT LAUREL
WEAR YOUR Swimsuit under your clothes w/ sneakers
BRING FLIP FLOPS, TOWEL, SUNSCREEN
www.funplexmountlaurel.com
Campers will visit this one-of-a-kind indoor/outdoor amusement park. Have a blast on indoor thrill rides, arcade games and a 16-lane bowling alley. After the fun inside, we'll go outside for more thrill rides and an outdoor water park! All this fun at one location!
Lakewood Blueclaws 1st-9th
TUESDAY • JULY 14th • $25 • LAKEWOOD • WEAR SUNSCREEN
www.milb.com/lakewood
Campers will enjoy a mid-afternoon minor league baseball game at the fun and safe Blue Claws Stadium.
Jersey Shore Arena 1st-9th
WEDNESDAY • JULY 15th • $40 • WALL
Dress warm! Socks & long sleeves required
www.jerseyshorearena.com
Campers will enjoy an open Ice Skating session on NHL sized skating rinks & a fun game of Laser Tag! Skate rentals included.
Urban Air 1st-9th
THURSDAY • JULY 16th • $40
Toms River • Socks & online Waiver REQUIRED
www.urbanairtrampolinepark.com
This is the ultimate indoor adventure park experience! Campers will have access to trampolines, virtual reality, wall climbing, battle beam, dodgeball, and a warrior course!
Escape the Puzzle 4th-9th
MONDAY • JULY 20th • $40
LONG BRANCH • SNEAKERS REQUIRED
www.escapethepuzzle.com
Campers are challenged to work together to solve problems, uncover clues & crack codes in order to progress as a team. You & your team only have 60 minutes to escape the room! Each room has a unique storyline that you'll be introduced to upon entering, along with basic instructions. A Game Master will be watching you via camera to assist with hints, good luck!
Medieval Times 3rd-9th
TUESDAY • JULY 21st • $55
LYNDHURST • SNEAKERS REQUIRED
www.medievaltimes.com
Campers will step back in time and cheer on their knight through epic battles and jousting tournaments. They will also enjoy a royal feast at the castle!
Ocean Ice Palace 1st-9th
TUESDAY • AUGUST 4th • $40
BRICK • SNEAKERS & ONLINE WAIVER REQUIRED
*Please note: MUST BE 48" or taller to attend. Children under
48" will be too small for the ice bumper cars.
www.oceanhockey.com
Zoom around & take a spin on New Jersey's 1st Ice Bumper Cars! Campers will experience a thrill that nobody else around has on ice. Campers will be able to bump their friends & send them twirling hysterically around the ice. The ice bumper cars are easy to operate with 2 joysticks controlling the motion, while they slide around & bump into one another. Once the Ice Bumper Car party is over, campers will enjoy ice skating with all of their friends!
Sand Castle Contest PREK-9th
WEDNESDAY • AUGUST 5th • $20
BELMAR • SUNSCREEN REQUIRED
Campers will compete in a sand castle contest at Belmar beach against fellow Allaire Country Day campers. Feel free to bring your own sand tools.
Sumo Hibachi 1st-9th
MONDAY • AUGUST 10th • $25 • Wall • (No SUSHI)
sumohibachisteakhouseandsushibar.weebly.com
Campers will enjoy a delicious, interactive hibachi lunch cooked right in front of them with all their friends at Sumo!
Choose: chicken, steak, vegetables or shrimp.
Play Big Zone 1st-9th
MONDAY • AUGUST 17th • $40
MORGANVILLE • ONLINE WAIVER REQUIRED
playbigzone.com
Campers will enjoy a newly constructed 10,500 square feet facility that is packed with attractions for individual & team challenges, including a Human Foosball court & the Big Ninja Race! From arcades to Play Big Bots, we provide entertainment that everyone can enjoy. The excitement never ends at Play Big Zone!
Chef It Up K-9th
TUESDAY • AUGUST 18th • $30 • TOMS RIVER
www.chefitupkids.com
Campers will prepare and assemble their own meal and have a blast! They chop, mix, measure, roll, slice & dice and they don't even realize they are learning! This facility is completely nut free and allergy friendly!
Monster Mini Golf PREK-9th
WEDNESDAY • AUGUST 19th • $30
EATONTOWN • Socks & Sneakers required
www.monsterminigolf.com
Campers will enjoy an 18 hole round of glow-in-the-dark mini golf at this exciting indoor facility, as well as LASER MAZE! They will also have access to the arcade as part of the trip.