ALL TRIPS WILL BE ANNOUNCED AS THEY BECOME AVAILABLE.
Campers MUST be registered for camp on day of field trip they are signing up for as most trips are only 2 to 4 hours during the camp day.
TRIPS ARE OPTIONAL AND AN ADDITIONAL FEE TO CAMP.
SPOTS ARE RESERVED ON A FIRST COME FIRST SERVE BASIS.
Some field trips from past summers have included: baseball games • bouncy houses • waterparks • indoor trampoline parks • ice skating • boardwalk • aquariums • movie theatre • mini golf • hibachi lunch • escape room • bowling • pirate ship • zoo • paintball • cooking class • arcades • indoor rock climbing and more…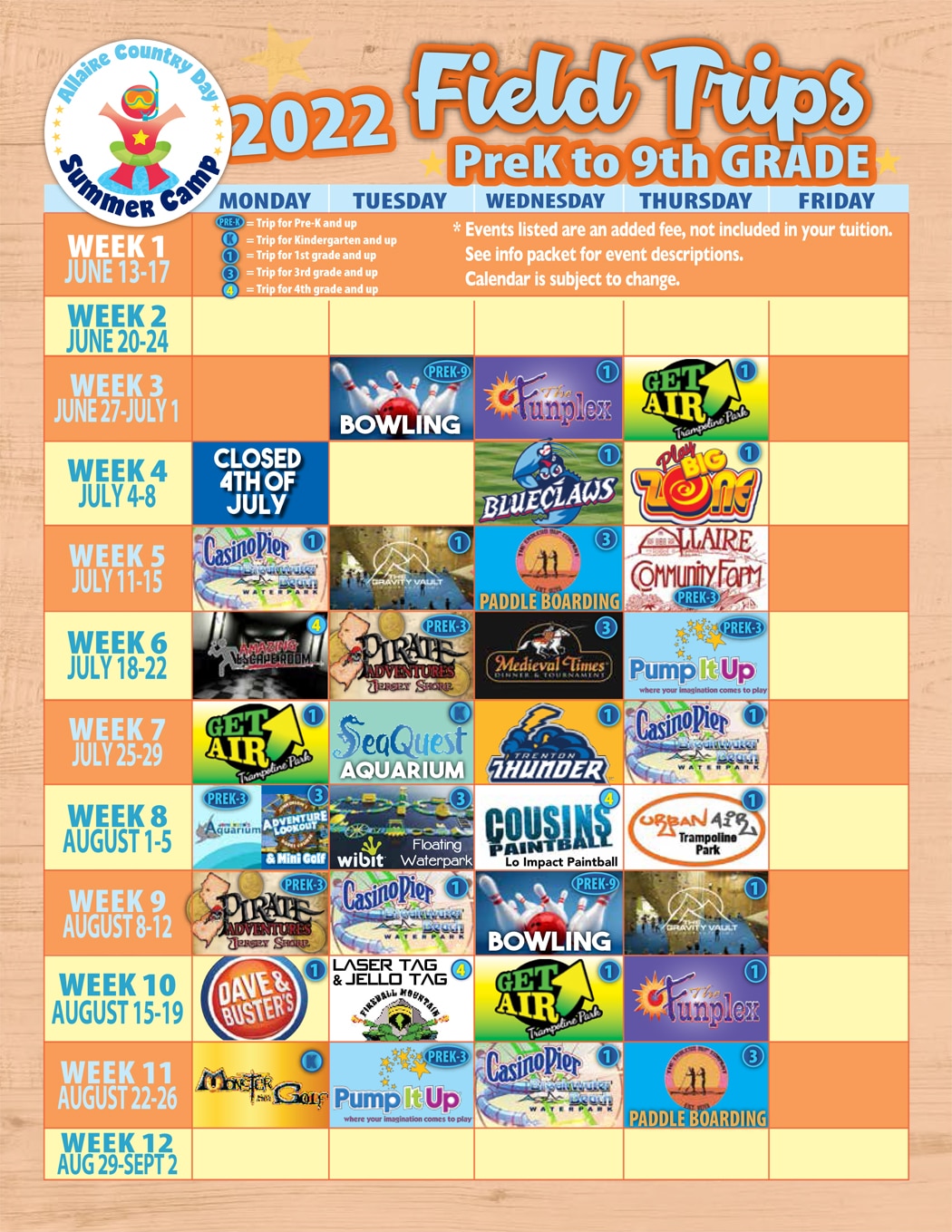 2022 Field Trip Descriptions, Prices, & Locations
Lunch is provided on all trips!
BOWLING PREK-9th
TUESDAY 6/28 • WEDNESDAY 8/10 • $25 LOCATION T.B.D
SOCKS & SNEAKERS REQUIRED Campers will enjoy bowling with their friends.
FUNPLEX 1st-9th
WEDNESDAY 6/29 • THURSDAY 8/18 • $50
www.funplexmountlaurel.com
MOUNT LAUREL • WEAR YOUR SWIMSUIT UNDER YOUR CLOTHES. WEAR SNEAKERS & BRING FLIP FLOPS, TOWEL, SUNSCREEN. Campers will visit this one-of-a-kind indoor/outdoor amusement park. Have a blast on indoor thrill rides, arcade games & a 16-lane bowling alley. After the fun inside, we'll go outside for more thrill rides & an outdoor water park!
GET AIR 1st-9th
THURSDAY 6/30 • MONDAY 7/25 • WEDNESDAY 8/17 • $35
www.getairfreehold.com
FREEHOLD • SOCKS & ONLINE WAIVER REQUIRED. Campers will have access to the trampolines, dodgeball, basketball jump, foam pits, slackline, fidget ladder & the Ninja Course!
JERSEY SHORE BLUECLAWS 1st-9th
WEDNESDAY 7/6 • $30
www.blueclaws.com
LAKEWOOD • WEAR SUNSCREEN Campers will enjoy a mid-afternoon minor league baseball game at the fun and safe Blue Claws Stadium.
PLAY BIG ZONE 1st-9th
THURSDAY 7/7 • $45
www.playbigzone.com
MORGANVILLE • ONLINE WAIVER REQUIRED Campers will enjoy a newly constructed facility that is packed with attractions for individual & team challenges, including a human foosball court & the big ninja race! From arcades to Play Big Bots, the excitement never ends at Play Big Zone!
BREAKWATER BEACH 1st-9th
MONDAY 7/11 • THURSDAY 7/28 • TUESDAY 8/9 • WEDNESDAY 8/24 • $50
www.casinopiernj.com/breakwaterbeach
SEASIDE • WEAR SUNSCREEN & SWIMSUIT Campers will enjoy a fun, wet day at the state of the art Breakwater Beach Waterpark with many attractions for all ages including slides, lazy rivers, dancing fountains & much more. They won't stay dry for long!
GRAVITY VAULT 1st-9th
TUESDAY 7/12 • THURSDAY 8/11 • $50
www.gravityvault.com
MIDDLETOWN • SNEAKERS & ONLINE WAIVER REQUIRED
Campers will enjoy indoor wall-to-wall rock climbing! All levels welcome!
ENDLESS SUP 3rd-9th
WEDNESDAY 7/13 • THURSDAY 8/25 • $45
www.endlesssupcompany.com
BELMAR • WEAR SUNSCREEN & SWIMSUIT Campers will enjoy a day at the tranquil waters of Shark River in Belmar. They will be participating in standup paddle boarding. Campers will receive an introductory safety lesson before going out in the water.
ALLAIRE COMMUNITY FARM PREK-3rd
THURSDAY 7/14 • $30
www.allairecommunityfarm.org
WALL TWP. • SNEAKERS REQUIRED Campers will visit a local farm! They will feed & pet the animals, go for a hay ride & milk the mechanical cow! The will also enjoy pizza on the farm!
AMAZING ESCAPE ROOM 4th-9th
MONDAY 7/18 • $40
www.amazingescaperoom.com
FREEHOLD Campers are challenged to work together to solve problems, uncover clues & crack codes to progress as a team. Teams only have 60 mintes to escape the room! Each room has a unqiue storyline that you'll be introduced to upon entering, along with basic instructions. A Game Master will be watching you via camera to assist with hints, good luck!
JERSEY SHORE PIRATES PREK-3rd
TUESDAY 7/19 • MONDAY 8/8 • $40
www.jerseyshorepirates.com
BRICK ~ METEDECONK RIVER Ahoy! Campers will board the Sea Gypsy II for a swashbuckling pirate adventure. Young pirates will get tattoos, personalized pirate name tags & fire up the water cannons on a pirate adventure like no other! Help the Captain find the hidden treasure!
MEDIEVAL TIMES 3rd-9th
WEDNESDAY 7/20 • $60
www.medievaltimes.com
LYNDHURST Campers will step back in time, cheer on their knight through epic battles & jousting tournaments & enjoy a royal feast at the castle!
PUMP IT UP PREK-3rd
THURSDAY 7/21 • TUESDAY 8/23 • $30
www.pumpitupparty.com
FREEHOLD • ONLINE WAIVER REQUIRED Campers will enjoy non-stop fun while jumping, sliding, & climbing on giant inflatable slides, jump houses & obstacle courses.
SEAQUEST INTERACTIVE AQUARIUM K-9th
TUESDAY 7/26 • $35
www.woodbridge.visitseaquest.com
WOODBRIDGE Campers will engage in an interactive experience at the aquarium encountering various sea life as well as participate in a science lab!
TRENTON THUNDER 1st-9th
WEDNESDAY 7/27 • $35
www.milb.com/trenton
TRENTON • WEAR SUNSCREEN Campers will enjoy a mid-afternoon minor league baseball game at the fun and safe Trenton Thunder Stadium.
JENKINSON'S AQUARIUM PREK-3rd
MONDAY • 8/1 • $30
www.jenkinsons.com/aquarium/
POINT PLEASANT Campers will enjoy a close look at various sea animals and will learn, discuss, and touch sea life with the guidance of professionals.
JENKINSON'S ADVENTURE LOOKOUT ROPES COURSE & MINI GOLF 3rd-9th
MONDAY • 8/1 • $40
www.jenkinsons.com/adventure-lookout-ropes-course/
PT. PLEASANT • SNEAKERS REQUIRED *Please note: MUST BE 42" or taller to attend. Campers will challenge themselves on the Adventure Lookout Ropes Course! The 2 level course has 25 thrill elements, a chance to "walk the plank", zipline & a peak of 36' with ocean views. After the course, campers get to play Mini Golf with their friends!
LACEY WIBIT 3rd-9th
TUESDAY 8/2 • $40
www.laceytownship.org/beaches
FORKED RIVER • WAIVER REQUIRED • TOWEL & SUNSCREEN Campers will enjoy a floating waterpark at Lake Barnegat. The waterpark includes monkey bars, a half pipe, bridges, ramps, slides, twist turns & much more!
COUSINS PAINTBALL 4th-9th
WEDNESDAY 8/3 • $55
www.cousinspaintball.com
MANCHESTER • WAIVER REQUIRED Campers will play paintball with friends. They will be given goggles & a low impact paintball gun. Please wear clothes that you don't mind getting dirty. Though the paint is meant to wash out they could still get grass and dirt stains.
URBAN AIR 1st-9th
THURSDAY 8/4 • $40
www.urbanairtrampolinepark.com
TOMS RIVER • SOCKS & ONLINE WAIVER REQUIRED This is the ultimate indoor adventure park experience! Campers will have access to trampolines, virtual reality, wall climbing, battle beam, dodgeball, and a warrior course!
DAVE & BUSTERS 1ST-9TH
MONDAY 8/15 • $50
www.daveandbusters.com
WOODBRIDGE • SNEAKERS REQUIRED Exclusive new arcade games to classic video games, campers will enjoy a day full of entertainment! There's something fun for everyone in the Million Dollar Midway & tons of prizes to take home!
FIREBALL MOUNTAIN 4TH-9TH
TUESDAY 8/16 • $50
www.fireballmountain.com
WRIGHTSTOWN • WAIVER & SNEAKERS REQUIRED Enjoy a series of outdoor laser tag & jello tag missions with a high tech edge, designed to get your adrenaline pumping & your brain working overtime. It will challenge you at all levels.
MONSTER MINI GOLF K-9th
MONDAY 8/22 • $35
www.monsterminigolf.com
EATONTOWN • SOCKS & SNEAKERS REQUIRED Campers will enjoy an 18 hole round of glow-in-the-dark mini golf at this exciting indoor facility, as well as LASER MAZE! They will also have access to the arcade as part of the trip.