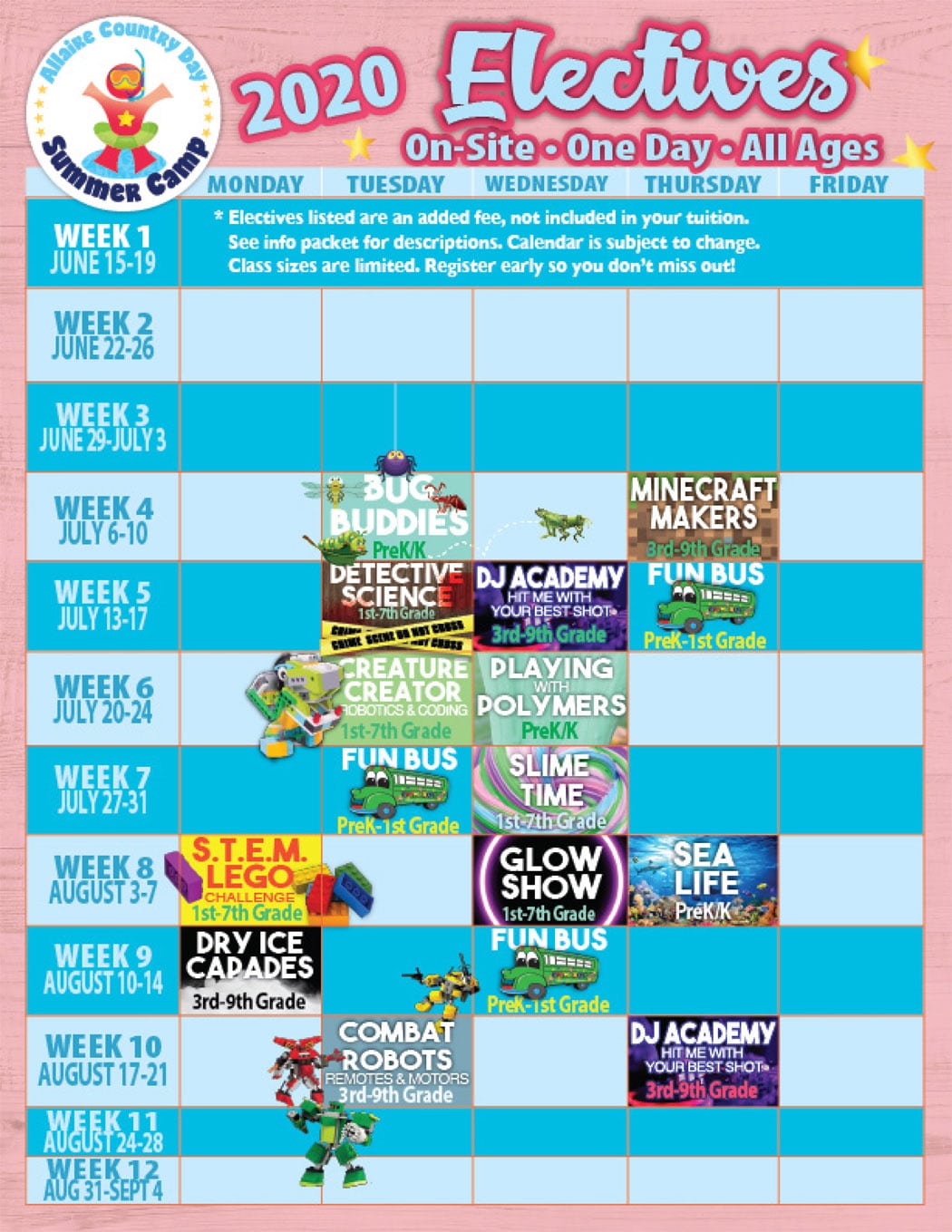 One Day Elective Descriptions, Ages, Dates, & Pricing
"BUG BUDDIES"
Tuesday • July 7th • PreK/K • $18
Get up close and personal with creepy, crawly bugs! Your preschoolers will learn how to tell the difference between bugs and insects, and how to answer questions like "how many legs does an insect have?" and "are all bugs pests?" The kids will even get to make a bug buddy to take home – don't worry it's not alive!
"MINECRAFT® MAKERS CAMP"
Thursday • July 9th • 3rd-9th • $28
Travel to the Nether with Snapology this summer, but watch out for those creepers! Join us as we bring Minecraft® to life using LEGO® bricks. Campers will take part in awesome activities to create a Minecraft® world, including animals, creepers, and 3D Minecraft® characters. Projects involve teamwork, critical thinking, and a whole lot of imagination. Minecraft® Makers will come together to make awesome creations in this one of a kind Minecraft Camp!
"DETECTIVE SCIENCE"
Tuesday • July 14th • 1st-7th • $20
Students will become science sleuths as they investigate how chemistry provides evidence at the scene of the crime. During this hands-on detective work, children will gather and test 'crime scene' clues, make and analyze their own fingerprints, decipher codes and encrypt messages.
"CREATURE CREATOR ROBOTICS & CODING"
Tuesday • July 21st • 1st-7th • $28
In Snapology's Creature Creator Robotics camp, your animal lover will create their own animal-inspired robotic models and make them come to life! Students will learn about gear ratio, sensors, simple machines, and programming as they build insects, dolphins, gorillas, dinosaurs, and more. This robotics and coding program is a favorite amongst our students. Your children are sure to have a wild time as they build, learn, and play with these interactive animal creations!
"PLAYING WITH POLYMERS"
Wednesday • July 22nd • PreK/K • $18
Giant molecule chains called polymers are vital to everyday life; and they can be lots of fun for kids. In this stretchy, slimy class, we will explore, create and play with the most entertaining and useful molecule known to science, and discover its many shapes and forms.
"SLIME TIME"
Wednesday • July 29th • 1st-7th • $20
Ooze into a gooey hour of sliming around! In this program, we will explore, create and play with the most entertaining and useful molecule known to science, and discover its many shapes and forms. Child will create slime using the Mad Science recipe, and then enter the Slime Olympics! Children even make their own slime that they get to take home and keep!
"STEM LEGO® CHALLENGE CAMP"
Monday • August 3rd • 1st-7th • $28
Are you up for a LEGO® Challenge? This Snapology camp teaches various aspects of STEM education through fun and interactive building activities. Campers will face building tests using LEGO bricks and other interactive building tools in a whole new way. Students will learn how to make LEGO fidget spinners, engineer towers to withstand earthquakes, build working marble mazes with LEGO bricks, and more. Teamwork is key in this camp and the children will have so much fun working together; they won't realize they are learning!
"GLOW SHOW"
Wednesday • August 5th • 1st-7th • $20
Discover amazing things that glow bright in the dark and come to light! Probe the properties of light and explore some unusual applications of glow-in-the-dark technology! Use your Blacklight Writer to make secret messages that only you can see!
"SEA LIFE"
Thursday • August 6th • PreK/K • $18
Discover how sand is made and meet some creatures that live in the ocean. We'll examine different shells, a starfish and a sponge; and we'll talk about how different sea creatures live. We will even make a tiny ocean that the kids can carry home in their pockets!
"DRY ICE CAPADES"
Monday • August 10th • 3rd-9th • $20
Children will be introduced to the scientific concepts of phase changes and states of matter. They will witness the phenomenon of sublimation as we demonstrate the unique properties of dry ice and the spectacular "smoke" it creates. The children will learn that dry ice is really frozen carbon dioxide and will experience the Mad Science burp, a display of bubbling potions and, finally, a thrilling grand finale!
"COMBAT ROBOTS: REMOTES AND MOTORS"
Tuesday • August 18th • 3rd-9th • $28
Do you think your child can build the strongest and most agile LEGO® robot? Can the robot win a head-to-head combat mission? In this Snapology camp, students will discover strategies for building sturdy structures through learning engineering principles and then applying that knowledge to build a robot that uses motors and remotes. Robots will take part in friendly competitions like football, soccer, and battle missions. Students will have so much fun, but shhh, don't tell them this program is educational!
"FUN BUS" PreK-1st $16
Thursday 7/16 • Tuesday 7/28 • Wednesday 8/12
FUN BUS is a "mobile gym on wheels"! Campers will tumble, climb, jump, flip & swing their way through the bus during this class.
"DJ ACADEMY: HIT ME WITH YOUR BEST SHOT"
3rd-9th • $20
Wednesday • July 15th • Thursday • August 20th
Geared for the startup of young minds with creativity for mixing music, learning, and having fun! This hand on class will give campers a true insight of what its like to be a DJ.