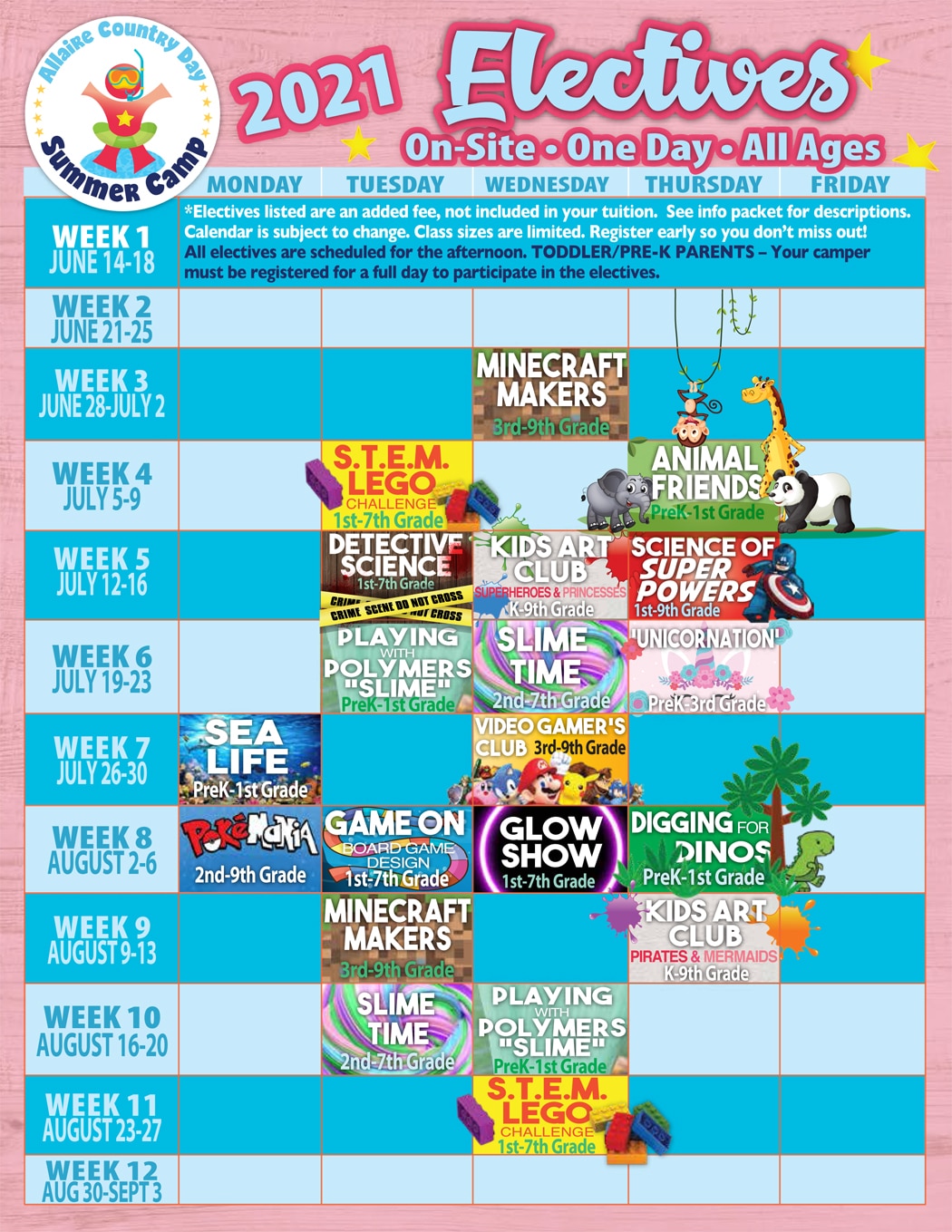 One Day Elective Descriptions, Ages, Dates, & Pricing
"MINECRAFT® MAKERS CAMP"
WEDNESDAY • JUNE 30th • 3rd-9th • $30
TUESDAY • AUG 10th • 3rd-9th • $30
Travel to the Nether with Snapology this summer, but watch out for those creepers! Join us as we bring Minecraft® to life using LEGO® bricks. Campers will take part in awesome activities to create a Minecraft® world, including animals, creepers, and 3D Minecraft® characters. Projects involve teamwork, critical thinking, and a whole lot of imagination. Minecraft® Makers will come together to make awesome creations in this one of a kind Minecraft Camp!
"STEM LEGO® CHALLENGE CAMP"
TUESDAY • JULY 6th • 1st-7th • $30
WEDNESDAY • AUG 25th • 1st-7th • $30
Are you up for a LEGO® Challenge? This Snapology camp teaches various aspects of STEM education through fun and interactive building activities. Campers will face building tests using LEGO bricks and other interactive building tools in a whole new way. Students will learn how to make LEGO fidget spinners, engineer towers to withstand earthquakes, build working marble mazes with LEGO bricks, and more. Teamwork is key in this camp and the children will have so much fun working together; they won't realize they are learning!
"ANIMAL FRIENDS"
THURSDAY • JULY 8th • Prek-1st • $20
Children become an animal, identify animal sounds, and learn all about animal babies and parents.
"DETECTIVE SCIENCE"
TUESDAY • JULY 13th • 1st-7th • $20
Students will become science sleuths as they investigate how chemistry provides evidence at the scene of the crime. During this hands-on detective work, children will gather and test 'crime scene' clues, make and analyze their own fingerprints, decipher codes and encrypt messages.
"KIDS ART CLUB"
K-9th • $23
Superheroes and Princesses • WEDNESDAY • JULY 14th
Pirates and Mermaids • THURSDAY • AUGUST 12th
Channel your inner Picasso at our Kids Art Club! Campers will be provided a canvas and all necessary materials as well as step by step instructions to create their masterpiece!
"SCIENCE OF SUPER POWERS"
THURSDAY • JULY 15th • 1st-9th • $30
In Snapology's Science of Superpowers program, children will learn about the science behind their favorite heroes'
powers. Students will study STEAM subjects such as gravity, aerodynamics, forces, motion, as they learn about flight, superhero vehicles, super villain strength, and why these characters fascinate us all. Build with LEGO bricks, learn about science, and interact with new friends in this awesome hands-on program is all about superheroes and all about fun!
"PLAYING WITH POLYMERS"
TUESDAY • JULY 20th • PreK-1st • $20
WEDNESDAY • AUG 18th • PreK-1st • $20
Giant molecule chains called polymers are vital to everyday life; and they can be lots of fun for kids. In this stretchy, slimy class, we will explore, create and play with the most entertaining and useful molecule known to science, and discover its many shapes and forms.
"SLIME TIME"
WEDNESDAY • JULY 21st • 2nd-7th • $20
TUESDAY • AUGUST 17th • 2nd-7th • $20
Ooze into a gooey hour of sliming around! In this program, we will explore, create & play with the most entertaining & useful molecule known to science. We will discover its many shapes & forms. We will create slime using the Mad Science recipe & then enter the Slime Olympics! Children even make their own slime that they get to take home!
"UNICORNATION"
THURSDAY • JULY 22th • PreK-3rd • $25
Dance into the magical world of unicorns! We will paint unicorns, enjoy an edible unicorn craft, get our faces painted, and have our very own unicorn dance party!
"SEA LIFE"
MONDAY • JULY 26th • PreK-1st • $20
Discover how sand is made and meet some creatures that live in the ocean. We'll examine different shells, a starfish and a sponge; and we'll talk about how different sea creatures live. We will even make a tiny ocean that the kids can carry home in their pockets!
"VIDEO GAMER'S CLUB"
WEDNESDAY • JULY 28th • 3rd-9th • $30
Indulge your child's gaming obsession IRL at this handson, creative class. It's all about games, games, games! We will use LEGO® bricks to recreate some of your child's favorites. Roblox-lovers will enjoy recreating their favorite "obbies," 3D versions of character skins & designing & playing LEGO-based Roblox-style games. Fortnite fans will jump at the chance to build island scenes, maps, skins & more. Minecraft fanwill use LEGO bricks to craft their own world, travel to the Nether–but watch out for creepers! Mario & Luigi will lend some zany antics to the week on Super Mario day & Pokémon hunters will love "catching," building & battling with their favorite Pokémon characters! Video Games have never been so fun without a screen!
"POKÉMANIA"
MONDAY • AUG 2nd • 2nd-9th • $30
Children will build & explore the world of Pokémon as they create their own pokeballs, training gyms & even their very own generation of Pokémon. Kids will learn about real world science as they create habitats for Pokémon, architecture by building homes & gyms for their characters & of course creativity, socialization & fun. Your child will have a blast becoming the best Pokémon trainer ever!
"GAME ON: BOARD GAME DESIGN"
TUESDAY • AUGUST 3rd • 1st-7th • $23
In this class, we will dive into board game design! Our mission is to create a board game that teaches players about the wonders of ocean life. We'll design the game board, cards and pieces, and then challenge each other to play!
"GLOW SHOW"
WEDNESDAY • AUGUST 4th • 1st-7th • $20
Discover amazing things that glow bright in the dark & come to light! Probe the properties of light & explore some unusual applications of glow-in-the-dark technology! Use your Blacklight Writer to make secret messages that only you can see!
"DIGGING FOR DINOS"
THURSDAY • AUGUST 5th • PreK-1st • $20
Kids are introduced to the differences between meateating and plant-eating animals. They have the opportunity to look at some dinosaur teeth up close and work as paleontologists, by participating in a mini dinosaur dig that engages their attention and helps them improve their scientific knowledge.