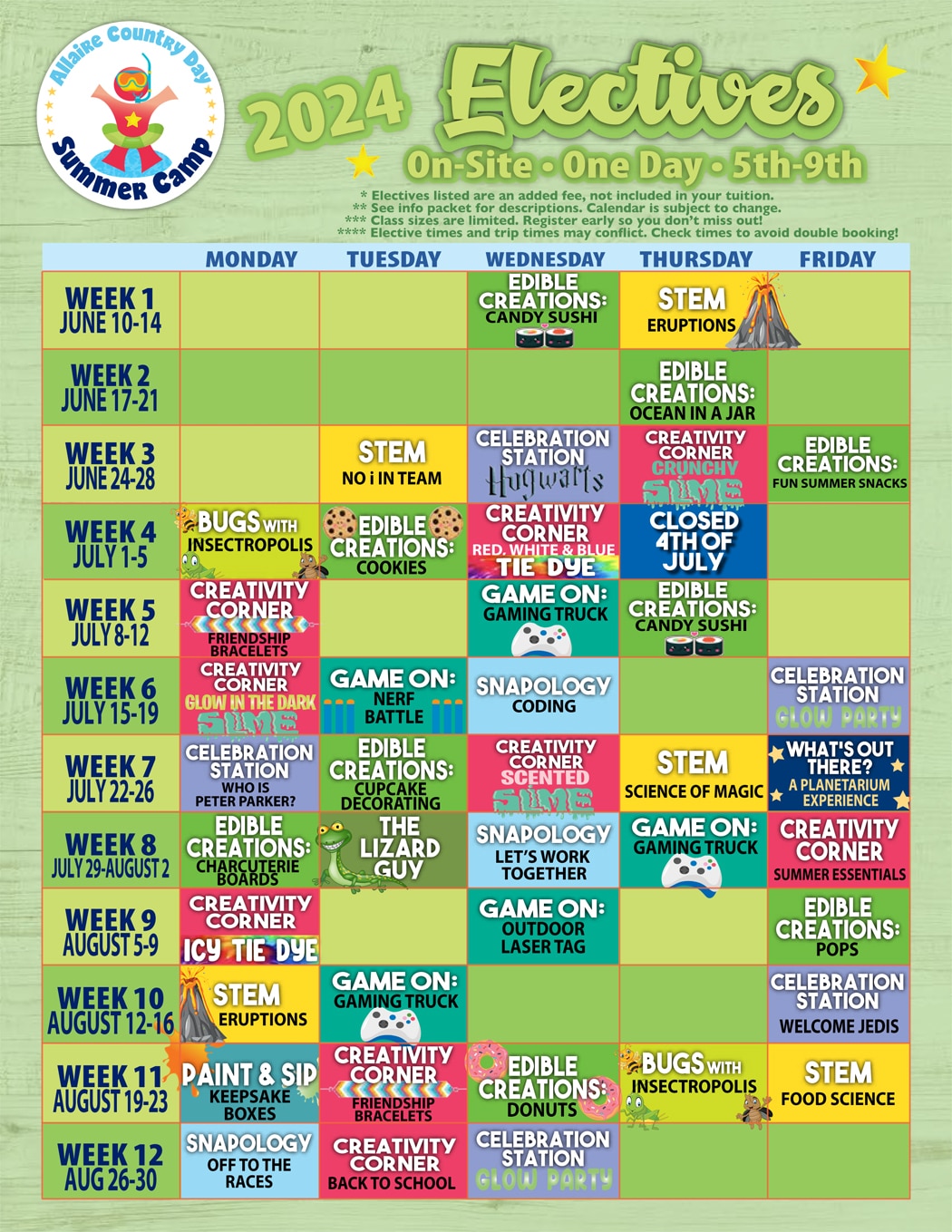 5th-9th Grade Elective Descriptions
"EDIBLE CREATIONS"
FEE: $30 PER CLASS
Wed. 6/12 Candy Sushi
Thurs. 6/20 Ocean in a Jar
Fri. 6/28 Fun Summer Snacks
Tues. 7/2 Cookies
Thurs. 7/11 Candy Sushi
Tues. 7/23 Cupcake Decorating
Mon. 7/29 Charcuterie Boards
Fri. 8/9 POPS
Wed. 8/21 Donuts
Campers will learn about handling food, reading recipes, and use their imaginations to make delicious edible creations!
"CREATIVITY CORNER"
FEE: $25 PER CLASS
Thurs. 6/27 Crunchy Slime
Wed. 7/3 Red, White and Blue Tie Dye
Mon. 7/8 Friendship Bracelets
Mon. 7/15 Glow in the Dark Slime
Wed. 7/24 Scented Slime
Fri. 8/2 Summer Essentials
Mon. 8/5 Icy Tie Dye
Tues. 8/20 Friendship Bracelets
Tues. 8/27 Back To School
Campers will participate in various projects creating brilliant works of art!
"PAINT AND SIP"
FEE: $25 PER CLASS
Mon. 8/19 Keepsake Boxes
Campers will be provided a canvas and all the necessary materials as well as step-by-step instructions to create their own masterpiece!
"CELEBRATION STATION"
FEE: $28 PER CLASS
Wed. 6/26 Hogwarts
Fri. 7/19 Glow Party
Mon. 7/22 Who Is Peter Parker?
Fri. 8/16 Welcome Jedi's
Wed. 8/28 Glow Party
It's party time! Campers will get to enjoy a full party experience. They will get to do fun and exciting activities, make crafts, and play tons of games!
"BUGS WITH INSECTROPOLIS"
FEE: $25 PER CLASS
Mon. 7/1
Thurs. 8/22
This hands on class will allow campers to explore various live bugs as well as exotic pinned specimens! Campers will investigate and celebrate the diversity of life.
"STEM CLASSES"
(Science, Technology, Engineering, Mathematics)
FEE: $30 PER CLASS
Thurs. 6/13 Eruptions
Tues. 6/25 No I In Team
Thurs. 7/25 Science of Magic
Mon. 8/12 Eruptions
Fri. 8/23 Food Science
Campers will engage in various themed activities incorporating science, technology, engineering, and mathematics. Learning while having fun is key to this class!
"SNAPOLOGY"
FEE: $28 PER CLASS
Wed. 7/17 Coding
Wed. 7/31 Let's Work Together
Mon. 8/26 Off To The Races
Snapology will bring campers hands-on STEM projects from creative building with LEGO® bricks to robotics, coding, and interactive team challenges. Join us for Snapology building fun and experimenting!
"PLANETARIUM"
FEE: $30 PER CLASS
Fri. 7/26
Campers will travel the universe and explore the night sky in this interactive presentation in the Starlab Portable Planetarium!
"THE LIZARD GUYS"
FEE: $30 PER CLASS
Tue. 7/30
Campers will be introduced to various animals including snakes, lizards, turtles, frogs, and various bugs in this hands-on interactive class!
"GAME ON"
FEE: $25 PER DATE
Wed. 7/10 Mobile Gaming Truck
Tues. 7/16 Nerf Battle
Thurs. 8/1 Mobile Gaming Truck
Wed. 8/7 Outdoor Laser Tag
Tues. 8/13 Mobile Gaming Truck
Vision Works will be providing our campers with various games this summer! This air-conditioned gaming bus is loaded with all the newest games and gaming consoles including PS5, Xbox, and Nintendo Switch! Epic battles will be setup on our outdoor turf for Laser Tag and Nerf Battle.